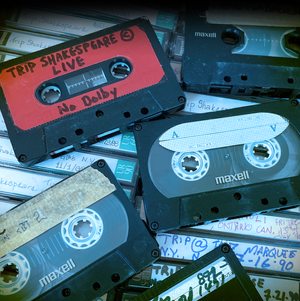 THE SHAKESPEARICON AUDIO ARCHIVE
Hey there! Happy you stopped in. A note about the use of this archive: by expanding each player window you can zip straight to your favorites or bathe in the flow as you wish. Some of these concerts were sourced from "cassette tapes." First generation sound transfers were rubbed adoringly with parsley sprigs for sonic enhancement, but most retain their hissy, warbly, analog charm. Therefore, this archive is less an audiophile's dream, and rather a dedicated streaming haven which aims to enshrine the varied live magic of  Trip Shakespeare. Maybe you'll hear yourself hoot'n & hollerin' somewhere in there - 0r silently fixed in awe. Whatever. Please share the archive with your accomplices. You know the ones...  
Keep checking back in. We will be adding more concerts regularly. And if you enjoy this stuff, you might just be inspired to use the FORUM or maybe even click on that ol' CASH FLASHERS tab over there.
Press the list icon at the bottom of each frame to reveal the song list.
Do you have a show recording? Give us a holler: braintree@tripshakespeare.net
FEATURED NEW SHOWS
Newly added archives will now be featured up top until they are no longer considered the newest old things. Keep scrolling for the Masterload of audio goodies from 1986-1993.